September 3, 2012
China Daily  by Zhousiyu
Farmers harvesting grapes in a vineyard in Mendoza, Argentina. Thecountry's wine makers, the world's fifth largest producer by volume,are eager to try their fortunes in the Chinese market, although itappears now there is no one capable enough of challenging theFrench wine makers' position in China's wine market. Provided by China Daily
South American country foments a big wine export drive to China
A beginning should be as good as it is simple. That's whatAntonio Mompo, manager for Wines of Argentina in Asia, theSouth American country's wine export organization, had in mindwhen he set out to promote Argentinian wine in China.
«Argentine wine has a simple and fresh taste, which is easy todrink and caters to the Chinese sweet palate,» Mompo said. Hebelieved this simple and pleasant mouthfeel can help the Chinesedevelop the habit of drinking wine.
Yet industry data seem to argue that the country has alreadybecome a confirmed wine drinker. A significant increase was seenin the country's wine supply over the past seven years: It surgedfrom fewer than 400 million liters in 2004 to 1,400 million liters in2011, according to a report by Rabobank.
In 2011 alone, bottled wine imports into China jumped by 65percent from the previous year
France, among the foreign suppliers, continued to dominate China's wine market in 2011,growing volumes to more than three-and-a-half times that of Australia, its nearest runner-up,according to the Rabobank report.to 241 million liters, the strongestgrowth since the global financial recession in 2007/8, according tothe report. Strong growth, huge potential and the ability to devoura large amount of premium wine make China one of the mostimportant export markets for wine suppliers across the world.
Although there seems to be no one capable of challenging France in the Chinese market in thenear future, competition among lesser rivals is still fierce. Being one of the newcomers,Argentine wine makers, currently the world's fifth largest producer by volume, are eager to trytheir fortunes in this bewilderingly complicated market as well.
New World wine
Just like many things in the New World, wine was brought to Argentina by immigrants from Italyand Spain in the late 19th and early 20th century. But whereas many New World wine-makingcountries, including Chile, New Zealand and Australia, exported most of their wine, Argentinepeople drank most of theirs at home.
At a certain point in time, each person in Argentina imbibed the equivalent of 90 liters of wineevery year. The amount is around 30 liters nowadays. «When I was young, there were threekinds of drinks in the house: water, water with wine and wine – and the amount of wine wasdetermined by the age of the person,» Laura Catena, an author, cited an Argentina winemaker,a 90-year-old descendant of a wine-making family, as saying in her book Vino Argentino(Argentine Wine). The high level of domestic consumption helps explain why the worldremained unfamiliar with Argentinian wine until about three decades ago.
The turning point, brought about by a man named Nicolas Catena, Laura Catena's father,came in the early 1980s. An economist by training, Nicolas Catena, determined to challengeEurope's position, launched a revolution in the central area of western Argentina's Mendozaregion, which now produces 70 percent of the nation's wine.
After studying viniculture, Nicolas Catena found in Mendoza the cool climate that was typical ofthe world's most famous wine regions by planting at higher elevations. Sheltered by the AndesMountains from Pacific rains, the coolness and low precipitation allow vines to ripen slowly andretain acidity, allowing resultant wines to develop heightened aromas and complex flavors.
Malbec, the most famous wine grape varietal, is another key factor in Argentina's rise tobecoming a major winemaker in the world. The Malbec grape, one of five Bordeaux varietals(the others are Merlot, Cabernet Sauvignon, Carberet Franc and Petit Verdot), used to be verypopular with French wineries. Unfortunately, the emergence of phylloxera in the late 19thcentury, a disease caused by an aphid-like insect, wiped out the grape completely in its Frenchhomeland.
To the East
At the same time, brought over by immigrants from the Old World continent, the Malbec grapeadapted successfully to Argentina's soil and sunny climate and was widely planted. Combiningdark, ripe concentrated flavors with a rich and smooth texture, the Malbec grape soon becameone of the fastest growing wine exports, winning world recognition for its second home.
Naturally, winemakers in Argentina expect Malbec to charm the Chinese just as it did in othermarkets. «Compared with European wines, Argentine wines have softer tannins and cleaneraromas, making it taste less aggressive,» said the renowned Mariano Di Paola, head winemakerat Rutini Wines in Mendoza.
Despite not being one of the largest producers in volume among Argentine wineries, Rutini(owned by La Rural Vinedos y Bodegas SA) is currently the largest seller to China, with itssales far ahead of its nearest follower in recent years.
But the company's success in China not only relies on its wine's simple, inviting tastes but alsoon a number of marketing factors. «Rutini Wines is a well recognized brand among the Chinesecircle in Argentina and was mainly sold to East China's Fujian province – where its memberscame from. The wine thrived based on that connection,» said Antonio Mompo from Wines ofArgentina.
In addition, the fact that the name «Rutini» is easy to pronounce and remember in the Chineselanguage helped the winery to establish its presence, enabling it to sell a lot of premium winesto the Chinese market, said Sol Asensio, Rutini Wines export manager for Asia and LatinAmerica.
To consolidate its position in China, Rutini Wines intends to continue promoting its image as ahigh-end wine producer in Argentina. «We are trying to become the Chateau Lafite forArgentine wines,» Asensio said.
Argentine winemakers are by no means shy of competing in quality with other foreign winesuppliers, including France. Unlike other countries, the climate in Argentina is very stable sothe vineyards do not have distinctively good years or bad years, said Gonzalo Carrasco,winemaker at Terrazas de los Andes winery. Moreover, warm or cold years give different fruitprofiles to the wines, he added.
«As a result, our wine's quality has been improving each year and it is easy for our customersto form a certain expectation before opening a bottle of Argentine wine,» he said. «They seldomfeel disappointed.»
Terrazas de los Andes winery, owned by the French luxury group LVMH Moet Hennessy LouisVuitton SA, exports 80 percent of its wine every year, its top three markets being the UnitedStates, the United Kingdom and Brazil. China is now indisputably the most important market,Carrasco said. «And we are confident of our own styles (in wine).»
Another advantage for Argentine wine is its reasonable price, which will help Argentinewinemakers confirm their market position, many Chinese wine critics believe. «The Chinese willsoon realize this is a good wine at a good price,» said Tommy Lam, wine program director atShanghai Jiaotong University.
'China, a continent'
Not all wineries in Argentina can draw on the connection among Chinese people like Rutinidoes to promote their images. One big challenge for the South American country's winemakersis to find a reliable partner and establish distribution channels in China's complicated market.
«We are constantly looking for new opportunities to develop the Trapiche brand in China,» saidRamiro Eduardo Barrios, area export manager at the Trapiche winery. Owned by Argentina'slargest wine producer Penaflor SA, Trapiche is the country's largest exported premium brand.
Barrios also expressed concerns about the popularity of premium Argentine wine in China's giftmarket. «The numbers are good but you just don't know whether this will help promote thebrand,» he said.
Another concern for the winemakers about China's market, Barrios added, is its slackregulation. This has led to numerous fake and counterfeited premium wines, causing quite astir in the international winemaking industry. French wines suffered the most. The situationcame to a head this year as Chateau Lafite was pressed to launch a campaign to fight fakeproducts in the country.
«All in all, China is definitely a core market for Trapiche and we envision big growth rates overthe next few years for Trapiche and Argentina as well,» Barrios said.
A reliable and capable Chinese partner becomes all the more important against thisbackground. Catena Zapata, the winery owned by Nicolas Catena's family, is a case in point. «We wasted a few years, but we finally found a good partner,» said Jorge Crotta, exportmanager at the winery.
Catena Zapata is now in an exclusive partnership with a Chinese company Beijing BETCGroup, which owns two high-end restaurants featuring Argentine food, one located in Beijingand the other in Shanghai.
Since the partnership was formed in 2011, sales of Catena Zapata's wine have increasedsteadily, Crotta said. «We are working closely in China to avoid infringements of our wine,» headded.
People with experience in the industry, however, do not encourage winemakers to concentrateon China's big cities such as Beijing, Shanghai and Guangzhou. «Competition in first-tier citiessuch as Beijing and Shanghai is very fierce. There is only limited space for a newcomer suchas Argentine wine,» said Antonio Mompo from Wines of Argentina.
With nine years of industry experience in China's market, Mompo was convinced that the realbusiness potential for the wine industry lies in China's emerging second- and third-tier cities,where increasing disposable income enabled the residents to try some affordable foreign wine.
«Rutini's success is very telling – just one province in China is enough to push up its sales,»Mompo said. «China is a continent in terms of business strategies. It is very complicated and allits submarkets are very important,» he added.
Submarkets, in the meantime, may also have lower thresholds. It does not require a big brandpromotion to enter these markets, which means there are opportunities for small wineries.Krontiras is a small winery in Mendoza and this year it managed to send a container of premiumwine to an importer in Northwest China's Shaanxi province.
«This is our first container to China. We hope this could lead to something and we are veryoptimistic,» said Thanassis Vafiadis, manager at the winery.
Wine generation
Who are the wine drinkers in China today? According to the report by Rabobank, a largeproportion of them are aged between 20 and 39 who earn more than 4,000 yuan ($630) amonth in a skilled profession.
To most Chinese, wine has a positive connection with the Western lifestyle and is not yetconsidered as luxurious as whisky or brandy, or as ordinary as beer, according to the report.This would provide a wine supplier with a strong market position when competing with makers ofother liquors, the report said.
«Grape wines are more likely to attract either younger, better educated, wealthier and/or femaledrinkers than baijiu (China's traditional spirit) or beer…with the potential to form a strong anddynamic consumer base in years to come,» the report said.
In the meantime, the report also pointed out that the number of people drinking wine is stillrelatively small and limited in geographical scope. And it may still take some time beforeChinese wine afficionados start exploring imported wines in big numbers.
«It will still take some time before the Chinese get familiar with the wine culture so, rather thanbeing led by the brand, they could choose wine based on personal judgment and preference,»agreed Mompo with Wines of Argentina.
Yet Mompo said he also noticed an emerging younger generation who have developed agenuine fondness for the wine culture and are catching up very fast. This younger generationhas formed its own wine circles through the Internet where they can share information andknowledge, Mompo said.
So far this generation is still at a relatively early stage of its life and does not have enoughpurchasing power but, when the time comes, «China will change the world's wine industry,»Mompo added.
zhousiyu@chinadaily.com.cn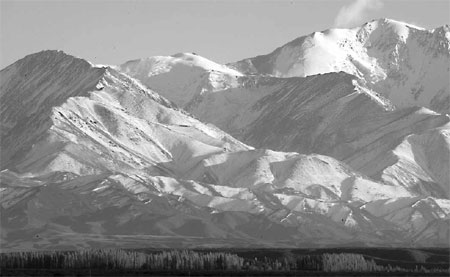 Sheltered by the Andes Mountains and fed by its melt water, wineriesin the Mendoza area – the winemaking area in the center of West Argentina that produces 70 percent of the beverage in the SouthAmerican country – command a breathtaking view of leafy green vineyards growing against a background of snow-capped mountains. Photos Provided to China Daily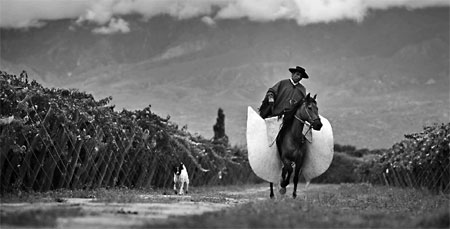 A horse-riding gaucho between vineyards in Mendoza, the winemaking area in the center of West Argentina that produces the majority of wine products in the country. Strong growth, huge potential and the ability to devour a large amount of premium wine are making China one of the most important export markets for wine suppliers across the world.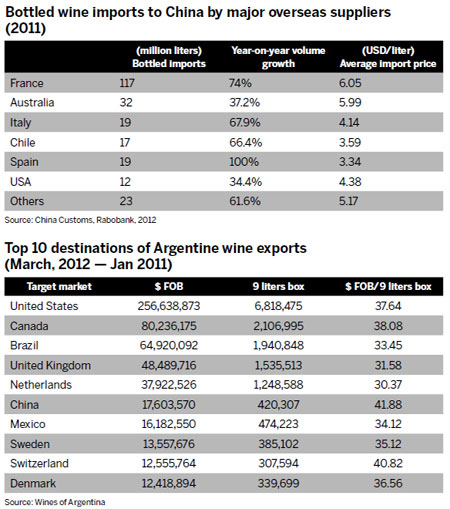 (China Daily 09/03/2012 page13)