Tuesday, 23 April 2013 11:54
Indian Wine Academy | Subhash Arora.
The Argentine delegation of 12 wine producers last week had at least a couple of international wine celebrities who went fairly unnoticed due to poor PR. While Ortega Gil-Fournier Spanish family owns O'Fournier wineries in Argentina, Spain and Chile, it was the owner of Dominio del Plata in Mendoza, Susana Balbo with whom Subhash Arora tasted seven of her wines at Hotel Taj Palace a day earlier on April 15, courtesy the Wine Park currently in the process of identifying the labels for import.
In a country known for men controlling the winemaking, the Argentine woman winemaker Susana Balbo has not done badly as an international wine celebrity – she was declared at the No.30 slot in the 'Top 50 Most Powerful Women in Wine' list compiled by the Drinks Business in December 2013 and reported in delWine. Recognized internationally for her incredible passion and success in winemaking, Susana has been making wine since she earned her enology degree in 1981. She has experience in different countries including Australia, California, Chile, France, Italy, South Africa, and Spain – perhaps India may be on her list next! She spends one month in a different country during a harvest every year.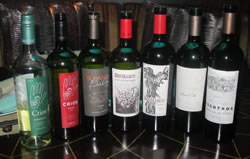 Not many people know that Balbo was in India earlier too with a wine marketing mission at the now defunct IFE India wine show, a few years ago when I had met her cursorily and tasted her wines. She had then gone back with a big smile, leaving cases of her wine with a dubious importer who became her agent and took home all her stocks for complimentary trade tastings. Unfortunately, nothing came out of it and she was back to square one. Quite upset initially ('he refused to even answer my emails,' she says), Balbo was philosophical as she narrated the incident, saying, 'every country has people like that and one needs to take the chances and learn from these failures.' Read full article
Talking of failures, she had in fact started another wine business earlier that failed prior to designing and constructing another winery, Dominio del Plata Winery, with her husband Pedro Marchevsky in 1999 in Mendoza. One of the twenty-three provinces in Argentina, it accounts for 70 percent of the domestic wine production. She is the first Argentine enologist hired as a consultant by European wineries.
Susana has been the President of Wines of Argentina, the official wine promotional body of Argentine wines from 2005-2011 and is currently on its Board. Talking about the difficult and highly inflationary period currently in Argentina, she says that her company pays salary increases twice a year, in January and September, once based on the inflation and the second time based on the performance, besides looking after the welfare and education of the children of her staff. With a devaluing currency, one would think exports would t be easier but unfortunately, the currency is not devalued officially and while the costs are going up, the receipts are not.
Wines Tasted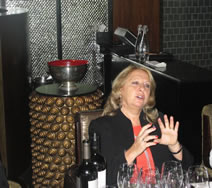 Seven wines were lined up as I reached the Blue Ginger Restaurant at the Hotel Taj Palace. She had started the tasting with Crios Torrontes 2012 made from the signature white grape of Argentina. The full bodied entry-level wine with crisp acidity and plenty of fruit had the perfume of melons and tangerines and good length. It tasted sweet but is actually dry with around 2 gms. of residual sugar, as Susana told us. A good value-for-money daily drinking wine, that.Crios Malbec 2012 was easy on the palate with a sweet front attack with cherries, black berries and a touch of oak with soft tannins – the young wine would be good with vegetarian fare as well. Susana Malbec 2011 is a blend of 90% Malbec and 10% Cabernet Sauvignon. It had very nice and lingering perfumes, the flavours were full of black fruit and very ripe tannins and high acidity which seemed to be the backbone of the wine. Made from grapes from 30-year old vines, it was a more complex wine that merits an entry into India. According to her, there is a wine merchant in Japan who wants to keep it for 40 years before selling it. He was selling 2003 when she went there last time, she shared. For Malbec lovers, Susana Balbo Malbec would be the right choice.
Also tasted were:  the full-bodied Ben Marco Cabernet 2011 with classic aromas of rich red fruits that followed into the flavours; Ben Marco Expressive 2010 is an interesting blend of 20% Cabernet, 50% Malbec, 10% each of Syrah, Petit Verdot and the Uruguay signature grape, Tannat. My favourite was definitely the Bordeaux Blend (even though the Bordeaux vintners don't like the use of this term by outsiders) Susana Balbo Brioso 2008. The wine is big, bold and beautiful and yet refined and elegant in taste with a good balance and structure and a fraction of the Bordeaux cousins of similar quality and expression.
The last wine, Nosotros 2008, had Christian Dior, Cartier, Gucci and Salvatore Ferragamo written all over. The moment you sniff this 100% Malbec, you know she is like a beautiful Parisienne dressed in expensive yet tasteful attire. The wine was full of multiple, fresh and floral fragrances exploding on the nose. Black cherries with a hint of tobacco impressed the palate. Very long wine, it did feel a bit heavy in the mouth. I suspect the alcohol level was close to 15% or slightly more.
I had no difficulty sipping three glasses during the next evening as a part of the Malbec World Day celebrations at the Oberoi – as my tribute to the grape that makes enviable wines with great potential with Indian cuisine because of the inherent pleasant sweetness and softness of ripe tannins that the vegetarians would find particularly seductive. Retailing at around $120 in the US, it may not make the cut in India but it does show you the pedigree of wines produced by Susana Balbo and explains why she is a respected winemaker, not only in Argentina but internationally as well.
The labels on all her wines are extremely catchy, chic and attractive. The alcohol level varies from 14% to perhaps 15.5%, although the labels indicate between 14-14.5% which is typical of Argentina wines though the well made wines have the alcohol well-integrated.
Vishal Kadakia is planning to start the imports with a couple of labels. After an earlier brush with an importer of dubious character, she seems to have found a compatible partner who is selective and discerning in his choice of producers, labels as well as customers. I have a feeling we shall be seeing more of the lady often addressed as 'Queen of Torrontes' and the 'Evita of Wines' in Argentina but in the Drinks Business she is simply one of the Top 50 Most Powerful Women in Wine.